In its first stage of organizational development, CSEAS was able to construct a platform for researchers to organize and conduct joint studies with their institutional counterparts within Kyoto University, in Japan more generally, in the region, and elsewhere. The second stage began when Professors Ichimura Shinichi, Tadayo Watabe, and Yoneo Ishii (1929-2010) succeeded each other as director of CSEAS. The team projects organized in the second stage were conducted mainly with the support of external funds. The increase in the amount of governmental financial support for scientific research such as Grants-in-Aid for Scientific Research (Kakenhi) from Monbusho helped promote and strengthen joint studies after the early 1970s. Carrying out individual research related to each researcher's concern and organizing and participating in joint studies became a principle by which every CSEAS staff abided.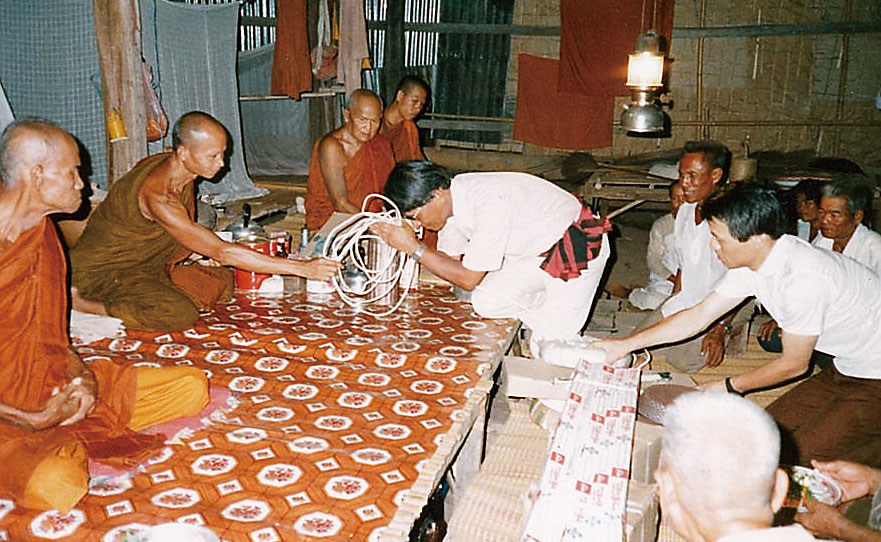 Field survery trip Dong Daeng Village in Northeast Thailand. Professor Kaida Yoshihiro donating electric wires to a newly built "forest temple."
In line with this principle, CSEAS organized team projects such as "Regional Economic Survey of South Sumatra," "Agro-environmental Studies of the Mekong Delta of Vietnam," "Potential Survey of Lowland Soils in Thailand," "National Independence Movement in Southeast Asia," "Impact of Industrialization on Rural Communities," and "Impact of Climate Change on Agricultural Production and Socio-economic Conditions in Rice-Growing Countries in Asia." As of 1980, permanent staff and the intra- and extra-mural affiliates at CSEAS had undertaken over 150 projects. These encompassed religion, culture, anthropology, sociology, demography, history, linguistic, education, economics, agricultural economics, international relations, fauna and flora, paleontology, geology, geomorphology, soil science, hydrology, irrigation and drainage, agronomy, forest ecology, medical science, and pharmacology (Fourth Report 1977–1980 15th Anniversary Issue (Japanese only)).